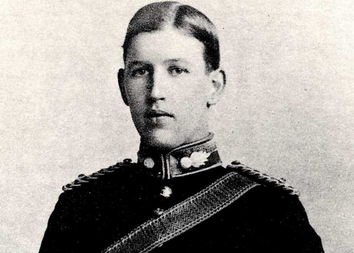 In Memoriam - Ronald Francis Simson, Lt RA, 1890-1914
17 September 2017
On 14 September 1914, Academical Ronald Francis Simson became the first home nation rugby international to be killed in action during World War 1. He was one of many who played rugby at Raeburn Place who went on to serve their country.
Born in Edinburgh on 6 September 1890, Ronnie went to school at the Edinburgh Academy before attending the Royal Military Academy at Sandhurst.
Simson was a tall, running centre who played for London Scottish, Royal Field Artillery and the Army. He earned his Scottish cap in 1911, scoring a try against England on his debut.
As a professional soldier, he was amongst the first division to sail to France at the outbreak of war in 1914. He died during the Battle of the Aisne on 14 September 1914 when a shell exploded below his horse.
On Saturday 16 September, Rob Flockhart, Scottish Rugby's current President, laid a wreath at Simson's grave in Moulins New Communal Cemetery, Aisne. This service was part of the commemorations organised in conjunction with World Rugby Memorial to honour all rugby players who died during the Great War.
#lestweforget