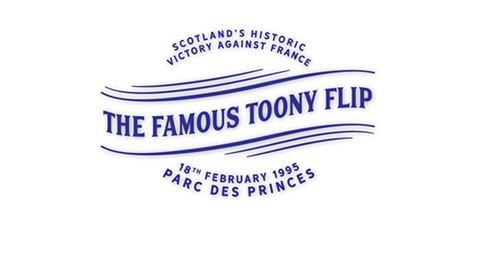 France v Scotland 1995 - were you there? Your chance to own a small piece of Scottish rugby history
18 February 2019
Saturday 18 February 1995 was a red-letter day for Scottish rugby, when Scotland pulled off a famous 23-21 victory over France at Parc des Princes. This was the first time the Scots had won in Paris since 1967 and was their only victory at Parc des Princes.
For any Scottish supporter in the stadium that day, the sight of Gavin Hastings thundering down the pitch to score the equalising try in the last moments of the game is something they will always remember. We all held our breath as he then stepped up to take the conversion and we roared with delight as the flags went up and we knew we had witnessed a magnificent piece of Scottish rugby history. A piece of history that stemmed from the now famous Toony Flip, as Gregor Townsend managed to pop the ball back to Gavin's waiting hands, despite being sandwiched between tackling Frenchmen.
Were you there that day? One of our supporters was and, with help from illustrator Iain Macintosh, journalist Richard Bath, and Gregor Townsend and Gavin Hastings themselves, he has put together a fantastic piece of memorabilia from that day, based around a match day programme signed by the full Scotland squad.
The original will be auctioned at a future date, but 50 high-quality A3 prints have now been generously made available for sale, with all proceeds going to RPF. Please note that both Gregor Townsend and Gavin Hastings have individually signed each of these 50 prints.
How to secure your piece of Scottish rugby history
To own one of these prints, celebrating a unique event in Scottish rugby history, please email louise@raeburnplace.org with your name and address and the quantity required. Each print is just £50, plus £5 for post and packaging. If you would like to collect your print, please state this in your email. Prints will be allocated on a first come, first served basis.
Methods of payment
You can pay for your print(s) in one of the following three ways:
PayPal - click here to pay by PayPal. Please note that if you do not already have a PayPal account, you will need to create one, but this is quick and simple to do.
Bank transfer - set up a direct bank transfer to RPF's account, using the reference 'ToonyFlip'.
Bank: Clydesdale Bank
Sort code: 82 20 00
Account name: Raeburn Place Foundation
Account number: 90267250
Cheque - cheques should be made payable to Raeburn Place Foundation and posted to:
Raeburn Place Foundation c/o Henderson Loggie
11-15 Thistle Street
Edinburgh
EH2 1DF
Please include your name and address with your cheque and state how many prints you would like.
As soon as payment is received, your print will be despatched by 1st Class Royal Mail.