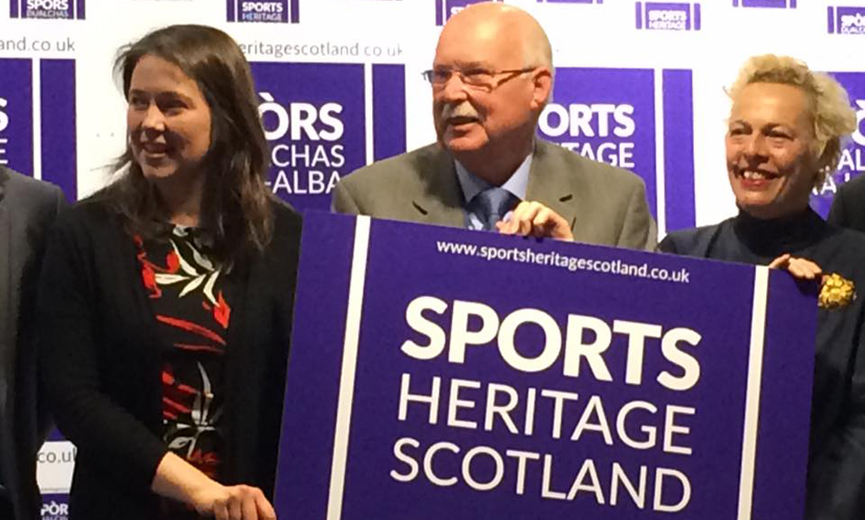 Sports Heritage Scotland launches The Memories Project
10 April 2017
The Minister for Sport, Aileen Campbell, recently launched The Memories Project and Sports Heritage Scotland's new website. As a founder member of the Sports Heritage Scotland network, Raeburn Place Foundation was proud to attend the launch at the National Football Museum.
Sports Heritage Scotland was established in 2015 by national sporting bodies and heritage organisations representing the sports of cricket, curling, golf, football, rugby and shinty. At the heart of the partnership is an ambition to identify and preserve Scotland's sporting heritage. Through this work, Sports Heritage Scotland aims to support exhibitions relating to each sport and to maintain a national sports reminiscence partnership.
Sports Heritage Scotland has a network of memories groups, which aim to support the health and well being of people living with dementia and other forms of memory loss, and people who may otherwise be experiencing loneliness, isolation or depression. Sports Heritage Scotland is creating a digital archive to support this network of memories groups.
The memories groups have evolved from the Alzheimer Scotland Reminiscence Networks (ASRN), which were set up to support people living with and affected by dementia through participation in therapeutic intervention-based groups.
There are now therapeutic Memories sessions for football, rugby, shinty, cricket, golf and speedway. Images from the period 1945 to 1980 are used during regular group meetings to stimulate shared and personal memories, whilst the use of 'club' names, ties and sweatshirts creates a valuable sense of belonging.
Scotland currently leads the world in reminiscence therapy and RPF is happy to have a role to play in this. Our planned Museum of International Rugby will provide a home for a new Rugby Memories Scotland club and could provide a hub for various other Memories groups, for example cricket and golf.