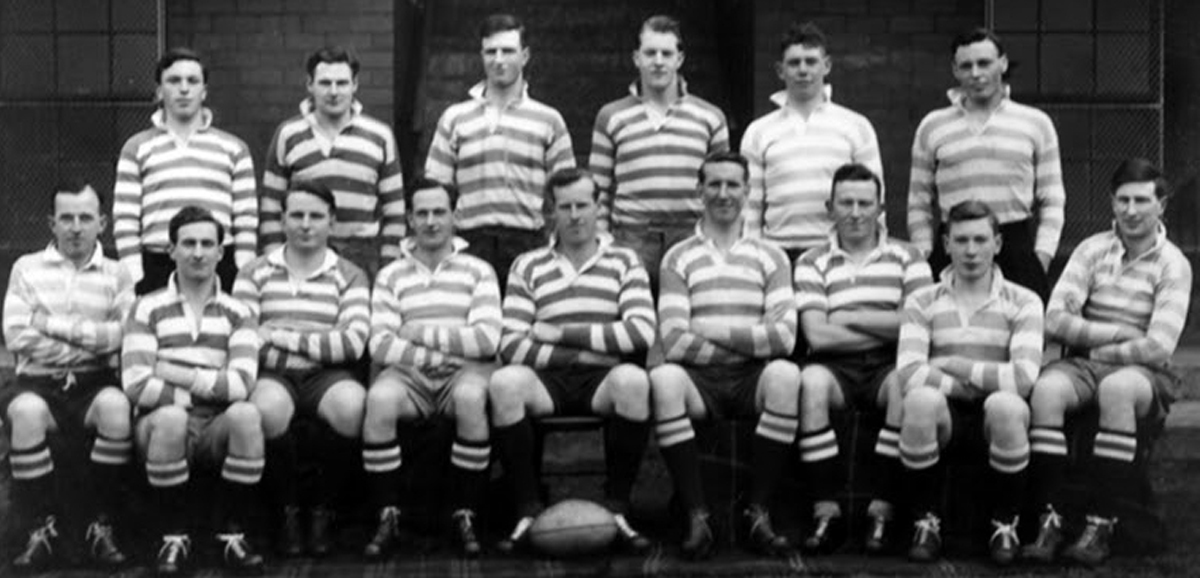 Raeburn Place players inducted into Scottish Rugby's Hall of Fame
15 November 2017
Two rugby players with close connections to Raeburn Place were inducted into Scottish Rugby's Hall of Fame on Saturday evening, 11 November, following Scotland's win over Samoa. Donna Kennedy, Scotland's first centurion and most capped player, received her award at a ceremony at BT Murrayfield. Wendy Smith accepted the posthumous award made to her father, former Accies' captain, 29-times cap for Scotland and seven-times Scotland captain, WID Elliot.
Donna Kennedy, a combative No 8, was the first Scot to gain 100 caps playing rugby for her country, no mean feat considering her amateur status and professional career as a vet. She is still the most capped Scottish rugby player, with 115 appearances to her credit. Following a brief period of retirement following the 2006 World Cup, Donna returned to the game, winning her 100th cap against France in 2007. She continued to play up to and including the 2010 World Cup.
Donna's international journey saw her win a Grand Slam and gain recognition from World Rugby when she was named Women's Personality of the Year in 2004. That journey started, fittingly enough for someone who spent part of her club career playing for Accies' Ladies, with Scotland Women's first international, which was played against Ireland at Raeburn Place in 1993.
Following her retirement from playing, Donna continued to contribute to women's rugby, becoming involved in coaching at the higher club level. Her importance to the game in Scotland was recognised in 2015 with the launch of the Donna Kennedy Cup, which is competed for in a regional fixture between East and West with the teams selected from the best women players in Scotland.
At 6'3" and over 14 stones, WID (Douglas) Elliot was a back-row forward who was a destructive tackler and a fast runner. He played for Scotland between 1947 and 1954 and was never dropped, although he missed a few matches in the 1953 season due to injury. It was a difficult time for Scottish rugby and WID was one of the few Scottish players to inspire his fellow Scots and gain global respect. It is widely acknowledged that he would have made the Scotland XV in any era. Such was his standing amongst the rugby community, his death in 2005 was marked by a minute silence at Murrayfield prior to the Scotland v Wales game.
Invited to tour with the British Lions to New Zealand, Douglas offered to cover his own costs to fly out, rather than travelling by ship with the rest of the tourists, as he could not afford to be away from his farm for the required six months. Unfortunately, his offer was rejected. He did however play for the Barbarians against Australia in 1948, a game the Baa-Baas won 9-6.
Despite farming in the Borders, Douglas played all his club rugby for Accies, captaining the side in the 1951-52 season and contributing massively to the club as it reformed in the post-war years and into the 1950s.
Douglas was also a great exponent of sevens and played in the Accies VII that won at Melrose in 1949, scoring both tries in the final against Stew Mel.
Donna and Douglas join fellow Accies, GPS Macpherson and Norman Mair, in the Hall of Fame. Both will feature in the new Museum of International Rugby and we also hope that Donna Kennedy's association with Raeburn Place will help to inspire the establishment of a new women's team at Raeburn Place once the new facilities are in place.