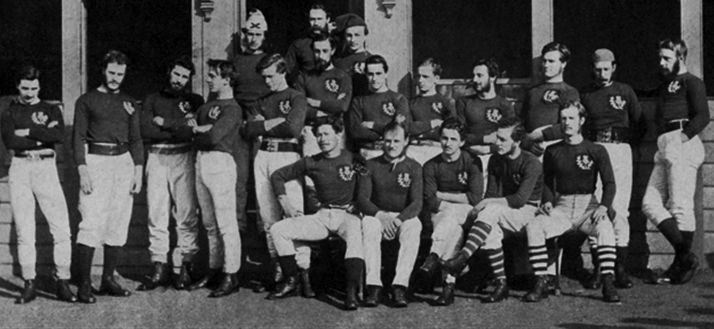 Samurai to partner with The Great Game
16 April 2021
The Raeburn Place Foundation is pleased to announce a new partnership for The Great Game, our hour-long documentary on the first ever rugby international, between Scotland and England which took place in Edinburgh in 1871. The game was not only the first rugby international but also the first international in any team sport, predating the first international matches in both football and cricket and establishing international team sports as we know them today.
Samurai Apparel is extremely proud to partner with RPF for this unique and long-lasting project; Samurai is a brand born out of passion for rugby, and there couldn't be a better occasion to contribute its second-to-none 25-year long artisanal experience in crafting sportswear garments for the world. As part of the agreement, Samurai will be hand-making authentic replica 1871 Scotland and England kit for a re-enactment of the original match to form part of the documentary, in addition it will market special edition shirts to coincide with the premiere of The Great Game to take place in the late summer of 2021.
Founded in 1996, Samurai is a brand born out of rugby with 25 years of expertise in designing and manufacturing high quality sports garments. Samurai brand is now a leading multi-sport teamwear supplier and currently partners with rugby clubs around the globe, including Leicester Tigers, Sale Sharks and Exeter Chiefs in the Gallagher Premiership, the only technical supplier to partner with three clubs in the top tier of English rugby.