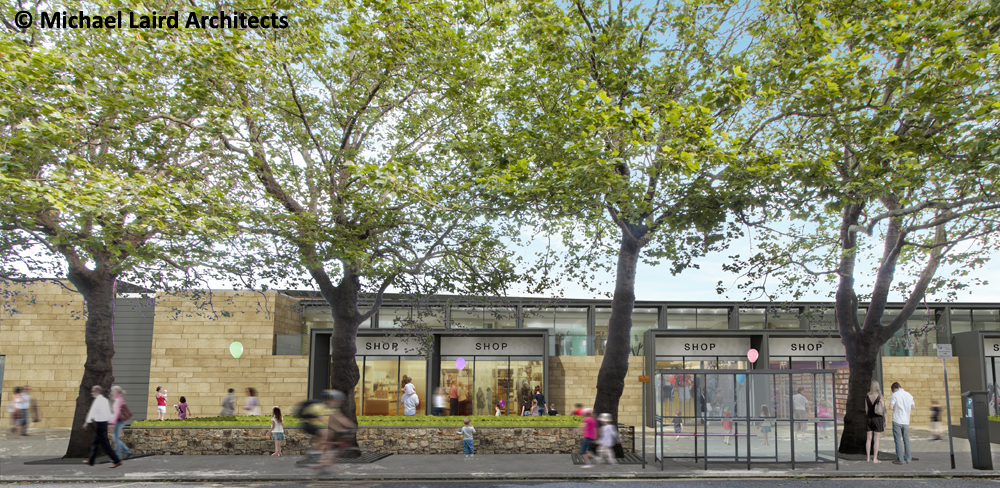 M&S Foodhall secured as anchor tenant
25 November 2016
We are delighted to announce the signing of a lease agreement with M&S Foodhall for units 6,7 and 8 of our commercial units. As the anchor tenant, the quality food retailer will take 500m² towards the centre of the Comely Bank Road frontage.
The incorporation of up to nine commercial units is central to our plans to redevelop Raeburn Place to create first-class sports and recreational facilities fit for the 21st century, and is one of the unique aspects of the project.
The estimated annual income of £500,000 generated by these units and the building's function suites will ensure the charity's financial sustainability and enable us to meet our charitable objectives. These include the advancement of public participation in sport and the advancement of heritage. In practical terms, this includes actively supporting sports organisations, including BATs, other charitable initiatives and the Museum of International Rugby, as well as maintaining the facilities and sports ground at Raeburn Place.
This estimated £500,000 per annum would mean that for every £1 donated towards the building of the commercial elements, there would be approximately a 7% annual 'return' in terms of additional charitable benefit for the lifetime of the facilities.
Our Chairman, David Newlands, said:
"It is a significant achievement for us to have secured such a well-known and respected brand for the new development. We are committed to increasing the attractiveness of Raeburn Place as a destination and feel sure the presence of an M&S Foodhall will allow us to secure other, equally appealing businesses for the remaining units. We are aiming for a mix that will draw people to Stockbridge, with positive benefits for the whole area."
Lee Nicoll, Acquisitions Surveyor at Marks & Spencer, said:
"We are continuing to expand our successful Simply Foods business, with over 200 new stores opening by the end of 2018/19. The development at Raeburn Place will provide us with a quality outlet in the heart of Stockbridge, which is one of Edinburgh's key retail locations. The store will sell the very best of M&S food, enabling us to better serve customers in the area and welcome new shoppers to M&S.
"The nature of this development, with the commercial units providing the means for sustainable charitable endeavours, is something with which we are proud to be associated."
Eric Young & Co will now be finalising tenants for the remaining units. Interested parties should contact them direct.