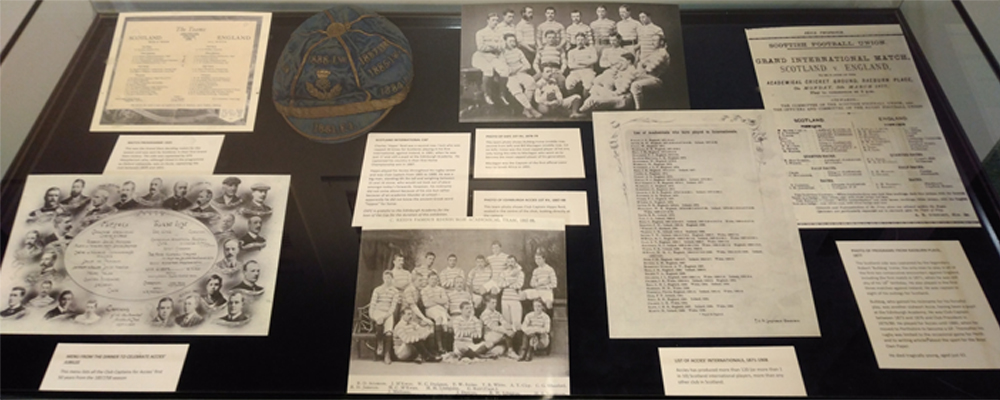 Preview for the Museum of International Rugby
24 August 2017
A temporary exhibition at the National Football Museum at Hampden is providing an interesting preview for what will be on offer at our proposed Museum of International Rugby (MoIR).
The 2017/18 rugby season marks the 160th anniversary of the Edinburgh Academical Football Club (EAFC). To mark this occasion, the National Football Museum is hosting an exhibition about Accies, which is the oldest surviving football club of any code in Scotland.
Founded in 1857, when organised football was in its infancy, EAFC predates the split between rugby and association football, when all schools and clubs played one game, 'football', but to many different rules.
As well as being the oldest football club in Scotland, EAFC was instrumental in the development of the international game. The first rugby international (which is also recognised as the first football international) was organised and hosted by the club on 27 March 1871. Accies provided the first captain and another eight of the forty players on the pitch for that historic game.
Richard McBrearty, curator of the National Football Museum, said:
"The history of Edinburgh Accies and Raeburn Place is inextricably linked to the origins of modern football. It is exciting for us to host an exhibition celebrating the 160th anniversary of this significant club. It is also clear that a focal point for rugby football should exist within Edinburgh and that Raeburn Place, site of the historic first international match of 1871 would be the most appropriate venue for such an attraction."
Although the scope of the MoIR will be broader than just EAFC, the club's involvement in the development of the game both in Scotland and internationally will make it a central focus. Members of the club were instrumental in the creation of the Scottish Rugby Union and World Rugby. The Hampden exhibition therefore provides a taster of things to come, with many of the artefacts on display acquiring a permanent home once the MoIR is established.
The Kingsburgh Cup is one of the items on display at Hampden, courtesy of the Edinburgh Academy. This Cup was presented to Lord Kingsburgh for his role in settling the 'Great Dispute' of the 1880s, the resolution of which led to the creation of the International Rugby Football Board (now World Rugby). Lord Kingsburgh was a founder member of EAFC, as was JA Gardner who became the first Secretary of the IRFB.
Speaking about the Hampden exhibition, EAFC President, Frank Spratt, said: "We are delighted to be given a place in the National Football Museum in our 160th season. We are deeply proud of our shared football heritage, as well as our own place in rugby history. The exhibition is a fitting tribute to our Club, as well as showcasing some important artefacts that will contribute greatly to the success of the MoIR."